Although leading cryptocurrencies saw some price fluctuation in 2021, several of the most popular crypto coins have lately seen significant upward momentum. In the wake of a market rebound, Cardano's ADA coin has emerged as one of the best-performing crypto assets, thanks to planned listings on new exchanges and major feature rollouts.
Cardano was founded in 2017 by Charles Hoskinson, and it only took the cryptocurrency four years to reach the tenth most valuable cryptocurrency in the world.
Its market value was $3 billion in November 2020, and its price was $0.107182, making it one of the cheapest cryptocurrencies.
Cardano's price was $2.2 at the time of writing this article, but it is subject to fluctuation over time. While it cannot compete with the high heights of Bitcoin, which is now hovering around $53,929 (and is anticipated to fluctuate significantly in the future years), this price still indicates an astounding growth rate. Indeed, this rise assisted ADA in achieving newfound prominence as the third biggest cryptocurrency. Soon after, the Cardano platform fell short of its triple-digit target of $98.91 billion, an all-time high.
Cardano, which has surpassed rivals like as Litecoin and Ripple XRP, is one of the fastest-growing platforms in the world of cryptocurrency. However, what will the value of Cardano be in 2021 and beyond? What is ADA cryptocurrency? Is Ada a good investment? Finally, can you include Cardano in your portfolio? Before we go into the Cardano ADA price prediction it's worth reading a little primer on Cardano and ADA.
Read more about: What is a Stablecoin
What exactly is Cardano?
Cardano is a decentralized blockchain platform founded by Charles Hoskinson, co-founder of Ethereum. The platform's development started in 2015 and was completed in 2017. Its claimed objective is to create a more sustainable and scalable blockchain network, in part by decreasing the need for energy-intensive bitcoin miners.
Cardano is to ADA what Ethereum and Ripple are to Ether and XRP, respectively. Thus, Cardano is the platform that runs the native cryptocurrency ADA. Cardano is a decentralized blockchain platform comprising two components: the Cardano Settlement Layer (CSL) and the Cardano Computational Layer (CCL) (CCL).
The Byron period allows users to send Cardano (ADA) native currencies to other blockchain participants. As with other Layer-1 cryptocurrencies such as Bitcoin, it also supports immutable transaction records.
The CCL is a distinct layer that enables tokenization, smart contracts, and decentralized applications by integrating various components released throughout the Shelley and Goguen periods (dApps).
Cardano is a blockchain software development platform that enables developers to create smart contracts and decentralized apps. Cardano has moved to the Goguen mainnet, a blockchain technology that incorporates features such as a token lock network.
What is the American Disability Act?
ADA is a digital currency or token that is based on the Cardano blockchain.
However, ADA is used to pay for premium network services. Additionally, users on the network may transfer and trade their money through a number of cryptocurrency exchanges, including Binance, Digifinex, and Upbit. Cardano's own ADA crypto price wallet, Daedalus, provides a secure location to store these currencies.
Cardano Crypto Price Prediction
Cardano's future seems to be better, according to Previsioni Bitcoin, an Italian bitcoin research program. As seen in the graph below, on 8th October 2021, the Cardano ADA price prediction was $ 11.87 by December 2023.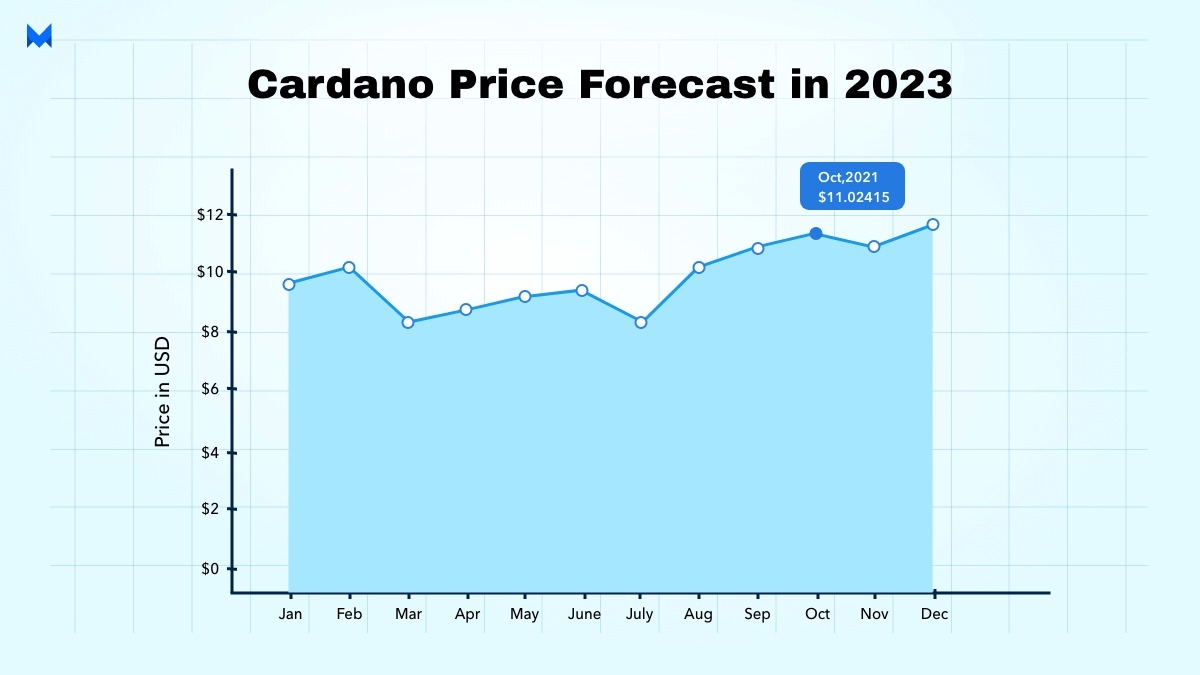 Cardano's market value is $93.7 billion as of this writing, behind only bitcoin ($934 billion) and Ethereum's ether ($439 billion). In 2021, the ADA token increased 1,583 percent, outpacing bitcoin's growth of 69 percent and ether's growth of 417 percent.
ADA remains one of the market's most aggressive cryptocurrencies. The ADA Cardano price prediction price is present $2.33 but will fluctuate in response to market conditions. To see the most up-to-date figures, visit CoinMarketCap.
Cardano's price is expected to increase by $3.12 by the end of2021, according to Digital Coin Prediction. Ethereum price prediction is optimistic, with Wallet Investor predicting that it would trade at around $4055.760 by the end of 2021.
According to the Economy Prediction Agency's website, Cardano's price will be $3.83 in 2021, $7.70 in 2022, $8.93 in 2023, and $15 in 2025. According to CryptoNewZ, the Ethereum price is expected to reach $3400 in 2022.
Cardano coin price predicted for 2024 is $6.5 at the end of the year. According to Trading Education's cryptocurrency Cardano projections and predictions for 2024, the high may be above $6.8, while the bottom could be around $4.72.
According to Digital Coin Prediction, the Ethereum price in 2024 is projected to reach about $6481.
According to Economy Watch's Cardano price prediction, Cardano 2025 will be able to break the $10 barrier before the end of the year. It is conceivable that the price of a coin would exceed $20 in 2030.
Cardano's price is expected to rise from $9 at the beginning of the year to $19.98 by the end of 2030, according to the company's estimate.
What do you believe is the cause behind the rise in the price of Cardano coins? Continue reading to learn and comprehend the rationale.
Why Is Cardano's Cryptocurrency Price Increasing?
Individual investors' reinvestment in cryptocurrencies has resulted in a recent surge in altcoins (alternatives to bitcoin). Cardano's ADA coin has been a popular option among miners in recent months.
As of October 2021, ADA has a market capitalization of over $73.27 billion and a 24-hour trading volume of more than $2.4 billion. As a consequence, CoinMarketCap ranks Cardano as one of the top five cryptocurrencies.
The anticipation of a September update to Cardano that will incorporate smart contracts, which many believe would allow it to compete more effectively with the Ethereum network, is fueling a portion of its recent rise. Smart contracts are digital contracts that are written in code and may be executed without the need of an intermediary if specific conditions are fulfilled. Smart contracts enable the creation of non-fungible tokens, often referred to as NFTs, and decentralized financial applications.
Second, the cryptocurrency network is scheduled to get a software upgrade that will enable it to compete with bigger competitors like Ethereum. As part of the upgrade, smart contracts will be introduced to the network, enabling Cardano to reach out to a broader audience of prospective investors. The software update may be delivered in September 2021. Cardano's price remained relatively stable during the recent cryptocurrency crisis, showing its resilience.
After understanding why it's time to compare Cardano to ethereum.
Ethereum vs. Cardano
The Cardano versus Ethereum argument is pervasive in the cryptocurrency industry since both networks exhibit similar features and investors think their preferred coin is the best to purchase. Let's examine the distinction between Cardano and Ethereum.
As previously stated, Cardano is a two-layer protocol. To put it another way, this implies that calculations and settlements are conducted separately. Ethereum is a multi-layer environment in which computations, smart contracts, and settlements such as token transfers all occur concurrently. Theoretically, this separation should enable ADA to function more effectively, leading to faster transactions at a lower cost. Cardano already makes use of proof of stake. Meanwhile, Ethereum is migrating from PoW to PoS.
Cardano's price increase may be attributed to the fact that the blockchain is capable of a wide range of uses. It is similar to bitcoin in that it works as money but also has voting rights. Miners are usually the ones that vote on protocol changes to a blockchain. On the other side, holders of Cardano coins may vote to approve these changes, giving them a greater voice in the cryptocurrency's future development.
Proof-of-stake blockchains use considerably less energy than proof-of-work networks. As a result of the PoS technology that ADA employs, there is very little energy used in terms of energy efficiency. Cardano utilises the Ouroboros algorithm, while Ethereum relies on proof-of-work (PoW) protocols. Due to the closed-loop nature of the ADA system, this is a physical depiction of the PoS process.
Additionally, it's important to note the distinctions between Ether's and ADA's monetary rules. Ethereum's supply is limitless, with the supply growing at a pace of 4.5 percent each year. In the meanwhile, the supply of ADA is restricted, similar to that of Bitcoin. As of the time of writing, there are 32.7 billion ADA in supply and 31.9 billion ADA in circulation, which is subject to change.
The Message
Cardano's new all-time high begs the question of how well the cryptocurrency has fared. To be quite candid, it's mind-boggling. To date, ADA has grown by about 1,400 percent. As a consequence of this, it is a top performer in the crypto market and one of the most significant cryptocurrencies to analyze in terms of growth.
According to Nasdaq, the cryptocurrency market had significant positive momentum in September 2021, with Cardano increasing by 126 percent, Bitcoin increasing by 52 percent, and Ethereum's price per Ether token increasing by 62 percent. Given that these figures are subject to change based on market trends, the time to select a platform is now.
Predicting Cardano and the wider cryptocurrency market's price movement involves a great deal of speculation, but there are several significant triggers for ADA on the horizon. The upcoming upgrade split is especially significant since it will pave the way for smart contract capabilities and other decentralized-finance features.