Exploring is a beautiful gift you add to your soul when you visit something new. To live this experience chock-fully, one has to make a long to-do list of new places to sense their soul. This journey would be more majestic if you start exploring from your own hometown or city that you live in. As they say, old memories are the sweetest ones and your city must have your oldest and sweetest memories.
Now, to add some real & soulful meaning to your experience of exploring, Hollabox (link) powered by Mobcoder is here to serve you. The app is a one-stop solution to witness every glimpse of the best places & the most happening parts of your city right on the app through interactive videos.
Arguably, no comparison can be drawn between a place visited virtually and personally. One can only behold the real essence of the beauty of any place when it is witnessed personally. But, in fact, there is no harm to harnessing a digital platform when it can help you to get the inside & outside glimpse of the place without even visiting it personally.
To serve the same purpose, Hollabox empowers you to witness a transparent glimpse of every place you love, be it a social joint, a famous Italian restaurant, a happening cafe, or a rapturous nightclub. Just see every glimpse of it on Hollabox, consider your choices through the trusted reviews, and prioritize your choices.
First, it can save your hard-earned leisure time that you save from your hectic schedule. Secondly, you will get to hear the reviews from the community of explorers.
A Place to Meet like-Minded People
The act of exploring has got a new meaning with Hollabox. Explore the best places & the most happening parts of your city right on the app through interactive videos. Be it a social joint, a famous restaurant, a famous cafe, or a place that serves tempting desserts. You will get a transparent glimpse of everything you love or want to explore in your city on Hollabox.
Feeling the Soul of the City
Some spots in the city are not just places. They inherit the soul of the city and reflect the whole look and feel of the city in them. And when it comes to sensing the city's soul, Hollabox is here to help you to meet with that soul through peer to peer-reviewing. Get some inside amazing pics of your favorite barbeque with the authentic reviews on the whole experience felt.
A Mutually Beneficial Platform for Explorers & Owners
Word of mouth is the best tool for marketing and publicity. With Hollabox, owners will get the word of mouth publicity through the amazing reviews posted by visiting customers. This posted content in form of images and videos will tempt other customers to visit the place with more fervor. When new customers come, more content will pile up to attract even more customers.
It's About Creating a Community Experience
Explore what others are loving, upload your own stuff, and share your own experiences with the Hollabox community. The whole experience is just divine as it is not confined to visuals, you can hear the music, and feel the vibe and atmosphere before you book.
From the latest pop-ups to the food everyone's talking about, watch thousands of video clips for a transparent look inside the best restaurants, bars, cafés, pubs, markets, and more.
Hollabox Delivers Tailor-Made Experiences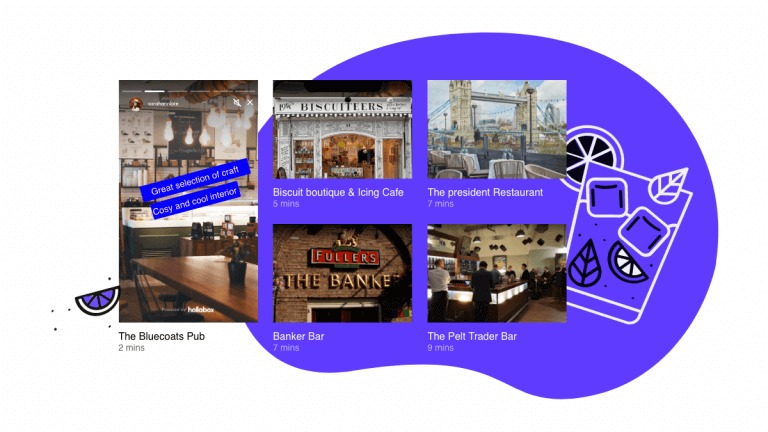 Another attribute that makes Hollabox unique and special among its league. Here, you will get customized feeds to make your choice more precise. Experiences are tailored to you, the time of day, and the weather – vegan or meat? Saturday brunch or Sunday roast? Walks in the park or immersive dining? Hollabox powered by Mobcoder got all covered.
The Road to Conclusion
On the premise of delivering a perfect city exploring experience, Hollabox is certainly complemented with myriad features.
We are constantly on a mission to make Hollabox the best it can be, improving both your experience of using the platform and discovering the best venues a city has to offer – life's too short not to have an amazing time right?