How to find app investors for startups? Everyone with a novel app idea is vying for a piece of the lucrative mobile app market. Isn't it enough to have an idea? Well, I'll tell you what! Developing an innovative mobile app requires a major investment of time and money. Investing in market research, product development, marketing, and other app development operations is an absolute must.
The process of securing money for your app isn't going to be easy, however. Therefore, you need to acquire app investors for your company's endeavors. Make sure to do some basic research before presenting your business idea or app concept to investors. App Investors are more likely to put money into your venture if your concept appears groundbreaking to them.
It's also a good idea to offer an MVP with a limited set of functionality so app investors can test and use your product in real-time. Investors will be more likely to invest in your product if they can tell that you are serious about it.
A good first impression is therefore crucial if you want to persuade a potential investor. Then, we'll talk about how to win the trust of your investors, as well as the types of app investors you might come across.
Investor classifications
There are several options for raising capital in today's market. Your app idea, the quantity of money you need, and the stage you're in will dictate where you hunt for app investors and how you present your ideas.
So, without further ado, let's take a look at the different kinds of app investors you can encounter.
Family and Friends: To get your app idea accepted by loved ones, start by asking them for support. However, personal relationships can only help fund a firm in the early stages. For example, you can conduct market research and construct a prototype using that money. If you want to go further, you'll need to look at other choices.
Co-founders: Inviting friends and relatives to join as co-founders is a second option. Because they believe your idea has enough promise, investors are more willing to back it. If you're confident enough in them, you can even enlist the help of folks you don't know as co-founders.
App Contests: A third category is app contests, which are held in various parts of the world. Competition is fierce, but app contests allow entrepreneurs a chance to present their ideas to app investors and persuade them to fund their projects.
Crowdfunding: Using the internet and other networks, individuals and organizations work together to generate funds through a process known as "crowdfunding." Investing time, effort, and money in marketing is essential for a successful crowdfunding campaign.
Angel investors and venture capitalists: They are an excellent source of cash for mobile startups looking for investors. These organizations typically provide a substantial quantity of money as a reward.
Find Investors, for app development, angel investors tend to be individuals, whereas venture capitalists tend to be corporations. In order to pique the interest of investors in your app, you must present a compelling case for why your concept merits financial support.
How to win investors' confidence in your mobile app development ventures
Investors' confidence can be gained through a series of actions.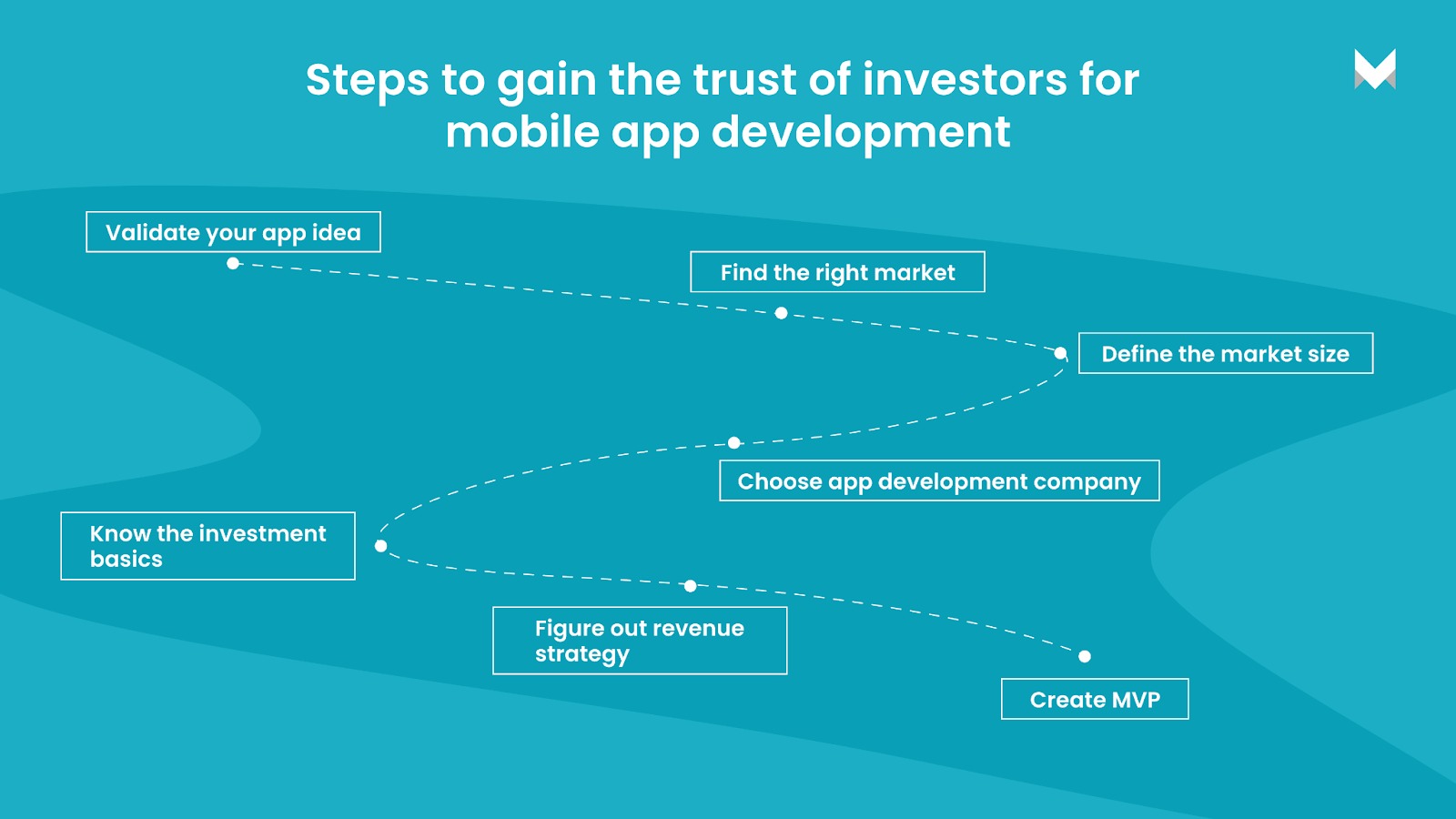 When pitching app investors, they want to know that you've put some consideration into your app idea. They want to know that you've done your homework and that your product has the potential to flourish in the marketplace.
In order to raise money for your innovative idea, you'll need to do the following steps:
1. Validate your app idea, It can be difficult to come up with a decent idea. Ideas that can make a difference and alleviate client pain points must be generated. Begin by working on something you're passionate about. Once you've come up with an app concept you like, the following step is to test it out to see if it has any real potential. App Investors are wary of putting money into an app that has already been developed.
So, conduct comprehensive market research and figure out the competitive landscape of your app's market. I need investors for my idea, your app idea should not be a direct clone of an existing product. Consult an app development company to see if your idea is viable.
If you want to succeed, you must know what your competition is up to. What unique features are they providing to users and how can you keep ahead of them? You need to undertake extensive research on applications in your area to find out.
[Also read: Kotlin vs Scala: Which one is better for your project]
2. Define the market size, you may acquire an estimate of the market size you can expect by examining the competitive environment. You need to know who you're trying to reach and what percentage of the market you'll capture before you can give a realistic picture of the potential upsides and downsides of building a mobile app.
If you want to see your idea come to fruition, it's best to work with a reputable app development company: A company with a history of completing similar projects and delivering comparable items should be your first choice.
Experts in the fields of mobile app development, UI/UX design, and market analysis make up a mobile app development company's staff, and they are there to help you achieve your goals.
In addition, the company offers the most up-to-date industrial know-how and access to cutting-edge technology. Making an app that has the newest features and capabilities and is sure to impress app investors is made easier with its assistance. As a result, if you want to secure funding for your app, you need to work with a reputable development partner.
3. Understand the fundamentals of raising capital and running a company in order to acquire the confidence of your possible app investors and persuade them. You'll gain a better grasp of the many types of capital available and the various stages of investment.
4. Work on a strategy to create revenue in addition to studying the fundamentals of investment. App Investors will back your mobile app development more enthusiastically if you show a clear and concise business plan. That's why learning about various monetization methods is critical, as well as being prepared to answer any inquiries about them.
5. Create MVP: The MVP, or Minimum Viable Product, is the first version of a product that has a limited set of capabilities and is designed to be tested and used by users. It's a cost-effective technique to assist app investors in better grasping how your product works. Having an MVP allows you to test the viability of your app before submitting it for investment from mobile app investors.
Additionally, an MVP allows you to show your potential investors a tangible product that they can touch and use right away. That which currently exists and whose owners have committed their time and money to it attracts app investors more than anything else.
An MVP is extremely flexible, allowing you to keep tinkering until you get the result you want. You can get in touch with us if you need help developing a successful MVP. An MVP that is attractive to mobile app investors may be created with the support of our team of specialists, which you can find out more about here.
JobGet recently collaborated with us to develop an app that simplifies the job-hunting process for blue-collar workers. Our team of professionals helped the customer secure cash for their unique application, from understanding the client's idea to MVP production. A total of $2.1 million in funding has been secured by JobGet, which has now placed over 1,50,000 job seekers.
Bring your own app concept! Contact Us Now.
How long does it take to fund a mobile app?
Let's take a look at the various stages of app funding now that we've seen how to obtain investors for an app.
1. Pre-seed: For a new app, pre-seed refers to the stage in which the app is only an idea that hasn't yet taken shape into a working product. Because most of the money comes from relatives and friends or your own pocket, this stage is referred to as an informal round. For the most part, funds acquired in this stage are utilized to build out the company's core personnel and develop a prototype or "minimum viable product" (MVP).
2. Seed stage: It's the second stage of investment, which focuses on your company's early development. During the seed round of your mobile app startup, you are still working on refining the product. Investments will help you fund more research, begin testing the product-market fit, and hire a crew. As a rule, early-stage venture capitalists, angel investors, and startup incubators respond at this level.
3. Series A: Getting to this point of investment is a sign that you're on the right path to success. After determining the market-product compatibility and explicitly defining your brand's mission, you're ready to launch. You begin to put more emphasis on expanding your company's operations and developing new products. Optimizing your company, its marketability, and the app's scalability should be your primary goals. Venture capitalists, "super" angel investors, and family offices are the typical Series-A investors at this point in the game.
4. Series B, C, D, etc: It is a sign that your product has been accepted by customers if you make it to series B or higher. Enhancing and adding additional features to your product is the focus of this stage. People are aware of your company's name and what it stands for. Your app has progressed from a small mobile app startup to a medium-sized enterprise. This stage of the company's growth is utilized for acquisitions, going public and partnering with other companies, enhancing branding, and expanding into new markets with constant product development and upgrades.
Once we've seen how to raise money for an app, let's examine how much money is needed to establish an app company.
[Also read: Live Football Streaming Apps]
In order to launch an app business, how much money do you need?
If you're trying to raise money for an app startup, there's no set amount you should aim for. According to the complexity, size, and composition of your app team, you'll need an approximate number of programmers to get your app started. From $15,000 to $50,000, you may have a simple MVP with just a few features. In contrast, a more complex cross-platform program with APIs can cost anywhere from $50,000 to $200,000, depending on its complexity.
As a result, there are several ways to raise capital for your firm. Work with your full-cycle mobile application development company to estimate the cost of producing your app, its features, and its primary purpose before approaching investors. You run the danger of making a financial miscalculation that may cost you your dream if you don't have a budget in place.
It's impossible to begin the app development process if you don't have enough money. Although it's possible to get too much money from investors, it's also possible that you'll lose control of your firm or even your ownership stake.
Once your app has been approved for funding, what should you do next?
What do you need to do when you've gotten funding from investors?
Well, there's still a lot of work to be done. Your app should be updated and improved on a regular basis. Take user and investor input into consideration as you continue to evolve as an app developer. As you progress through the funding process, you'll be able to utilize the money to enhance your app's functionality and design, as well as to expand your business.
In addition, new technologies and OS updates need that your program is regularly updated. That's why finding a startup app development company you can trust to keep your app running smoothly is so important.