When a software business, a gaming company, or a corporate IT department needs to reduce human expenses, expedite project timelines, or go beyond the boundaries of their in-house capabilities, they often turn to technical staffing firms for assistance.
IT service providers may propose several outsourcing engagement models, including staff augmentation, project outsourcing, or even managed services, as a means of bringing in external expertise. While several of these options may provide you, skilled engineers or designers, to assist your development team in concentrating on a deadline-driven project, you should be aware of particular differences between staff augmentation and project outsourcing.
In-house IT project completion skills development may be an expensive and hazardous endeavor, especially when an organization's IT requirements change frequently. As a result, we're witnessing an increase in the number of companies using third-party services to meet these demands.
When businesses seek outside assistance to finish their IT projects, they usually evaluate two delivery models:
Staff augmentation
Project Outsourcing
Let's examine some of the critical differences between staff augmentation and project outsourcing (the two most prevalent outsourcing models) — and, to a lesser extent, managed services — to assist you in determining which approach best fits your current staffing impediments and ongoing software development requirements.
Read more: Application Modernization
Staff Augmentation
In staff augmentation, a software firm hires external engineers on a Time & Materials contract basis to supplement its own engineers' skills.
In reality, the outsorcerer's in-house team is supplemented (or even replaced entirely) by third-party experts stationed at the buyer's location for the duration of the project.
Companies save money on recruiting, payroll services, and project execution by using staff augmentation. Due to the fact that ending a partnership is considerably simpler than ending a contract of employment, this model may simply be scaled up or down in terms of full-time equivalents (FTEs).
Furthermore, this full transfer of responsibility reduces HR and employment procedures, allowing the outsourcer to concentrate on its main business.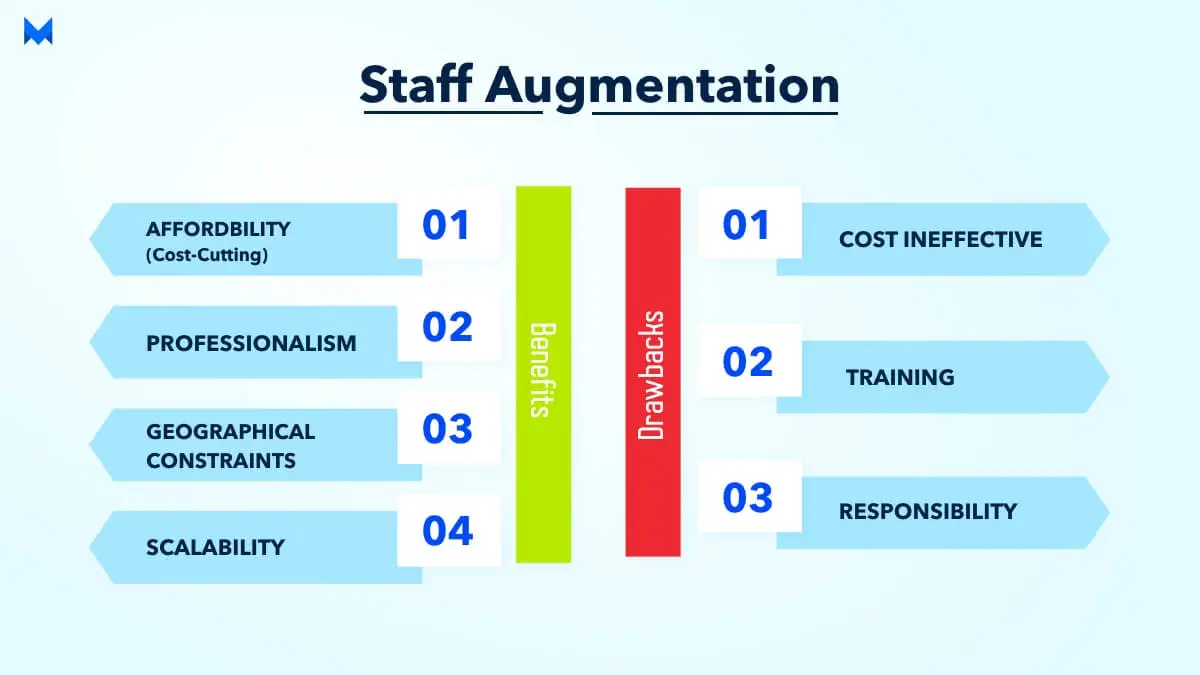 Benefits of Staff Augmentation
1. Affordability (cost-cutting)
You are responsible for paying for the work that has been completed. You save money while maintaining high standards of quality. You employ someone with the right skill set to help you advance the project, make improvements to what you've previously done, or start something entirely new. There are no long-term commitments or hidden fees when using staff augmentation services. You also save money since you won't have to hire new employees or pay them.
2. Professionalism
So you don't employ someone who MAY or MAY NOT meet your expectations when it comes to expertise and abilities. The application should be easy to use and follow the Staff Augmentation paradigm for prospective employees.
3. Geographical constraints
It's possible to employ someone from another nation if experts in your own country aren't available. You may also employ someone from your client's nation to help with legal or communication issues so that you can continue working together.
4. Scalability
No need to be concerned about extra workers who may lose their jobs after the project is completed if it expands over time. Without worrying about high-level delivery, you may simply choose employees with the appropriate development capabilities and proceed with the project.
Drawbacks of Staff Augmentation:
1. Cost ineffective
If your project takes longer than you expected or you have to employ an expert for a longer period of time than you anticipated, it may be unsuccessful in the long run. While the augmented staff is often more costly per hour than a normal employee, it saves you money in the short term while ruining your budget over the long run.
2. Training
Even if you employ seasoned professionals, you'll need to provide them with ongoing training (to let them follow procedures within your company or know business culture). Getting to know one another, learning how to work with one another, and understanding your company's structure always takes some time when someone joins your internal team. And you'll be charged for it.
3. Responsibility
With Staff Augmentation, you just pay for what your business needs. And of course, there's the end product, for which you are solely accountable. So, you're still in charge of the whole development and quality-control processes.
Read more: Order Management Software
Project Outsourcing
IT project outsourcing enables a business to execute projects by using the capabilities of a third party. In certain instances, just particular project components may be outsourced to a sub-team, while others may outsource the whole product development cycle. The team is employed and controlled by the outsourced service provider under this approach.
Benefits of Project Outsourcing
1. Reduced Training Costs
Training and skill development are the responsibility of the service provider. As a result, the customer does not have to be concerned.
2. Scalability
This approach makes it extremely simple to scale up or decrease staff resources.
3. Adoption of Better Practices
The most acceptable industry practices may be implemented by outsourcing tasks to a service provider that adheres to these standards.
4. Economies of Scale
For the client's project work, service providers may also use internal economies of scale within their core competencies.
5. Reduced Management Responsibilities
The outsourcer now assumes the client's management duties.
6. Centric on Results
Because the service provider is responsible for providing outcomes, the primary emphasis of this approach is obtaining results. The outsourcers share the risks and profits of the project.
7. Dedicated to the Core Business
Companies are no longer held accountable for outcomes. As a result, they may return their attention to their primary business.
8. Variable Cost Structure
In this approach, staff fixed expenses are transformed into variable project costs. Costs vary in direct proportion to the amount of project activity.
9. Reduced Legal Risk
Contracts for outsourced projects are structured differently from contracts for internal initiatives. Typically, any project failures or liabilities that occur are the responsibility of the outsourcer.
The project outsourcing model offers low-cost alternatives to businesses that lack the internal resources to execute projects. While it has numerous advantages, it also has some disadvantages.
Drawbacks of Project Outsourcing
1. Control Issues
The outsourced company is in charge of all elements of the project.
2. Internal Resistance
Some businesses may even see an external outsourcing service provider as a danger.
3. Choosing the Best Outsourcer
It is often difficult for businesses to evaluate the quality of prospective outsourcing providers. As a result, it is advised to spend effort selecting the appropriate partners and working together to make the relationship productive and engaging.
Read more: Top 5 Frontend and Backend Technologies
We have handled over 150 projects for different companies across numerous sectors and regions at Mobcoder. Our 160+ experienced staff adheres to industry-standard standards; in fact, our team has developed most of the best practices available, so you can be confident that we will deliver your product on time and in optimum condition.
Closing Statement
Software engineers are in high demand, but there aren't enough of them to go around. As a result, many IT firms have difficulty finding and retaining employees who have the necessary skill set.
While we're primarily looking at the differences between staff augmentation and project outsourcing in this article, staff augmentation is on the top list of managed services offered by Mobcoder businesses. When opposed to employing a large staff that you will have to let go as certain tasks are completed, you may simply engage offshore experts who will drive the project ahead.
So, hire dedicated resources now or at least once as per your terms to go hassle-free with development processes at reasonable costs to see whether it's a viable option for you.