Coronavirus pandemic has refocused people's attention on simple pleasures like reading and playing board games with their loved ones after dinner. Some good news came out of this quarantine for those who were already avid readers, too. As a result, I was able to read all the novels on my list.
Both circumstances may benefit from our list of book apps for bookworms. It makes it easier to sift through all the novels vying for your attention and select the one you'll like reading the most.
How to find the best book apps for bookworms from a variety of options?
Apps for bookworms cater to a wide range of preferences. You should ask yourself, "What am I looking for in book apps?" before going into the options and deciding which one is ideal for you. What really counts is what you want, the platform you're using, and how often you use it. Use this guide to your advantage if you are familiar with your scenario.
Book lovers, here are the best 6 free book apps for you, based on your perspective interests:
Goodreads, the book app for bookworms, takes the top spot.
Amazon Kindle, the most popular Kindle book app for bookworms, has a wide range of features.
Blinkist is a great iPhone book app for bookworms since it makes it simple to learn nonfiction.
Libby by OverDrive connects you to your offline library so you can download the best free book apps for the iPhone.
Wattpad is a book app for authors and readers to communicate.
Amazon Audible is the finest free book app for iPhone.
GoodReads
Available platforms: iOS, Android, Browser
Subscription Price: Free Service
Top choice for everybody interested in books
A unique feature is a mobile barcode scanner that enables you to add paper books to your digital "to read" list.
Many lists of the greatest apps for book lovers place Goodreads at the top of the list. What is the reasoning for this? Among the many features, it offers are personalized suggestions, recommendations from your friends, curated lists (such as Best Books 2019), a quote gallery, and a space for user feedback. The fact that there are 40 million active users and more than a billion books on it unifies writers and fans alike.
Read more: Best Mental Health Apps

Amazon Kindle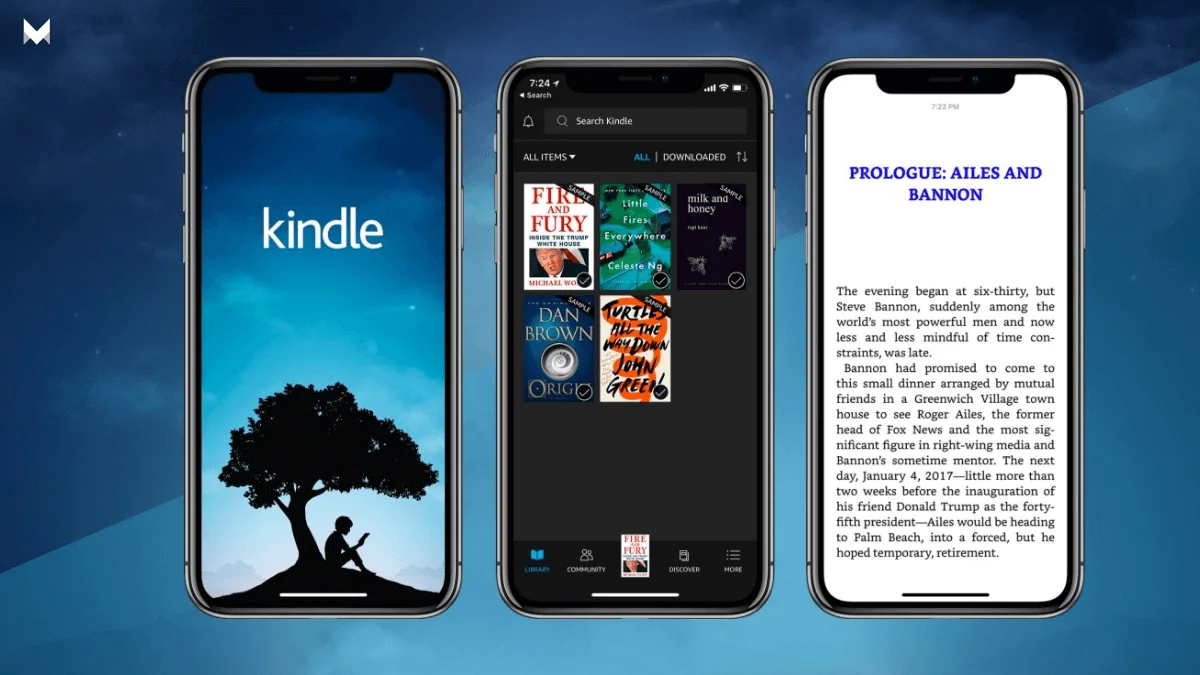 Available platforms: Android, iOS, Windows, Blackberry
Subscription price: Free from your Amazon account, but the price for books is different
Top choice for people who shop books on Amazon
Kindle Unlimited and Prime Reading are both available via Amazon Kindle, making it an ideal companion for your Amazon profile. The software provides a variety of features that make reading easier, such as the ability to highlight text, search for definitions and translations of terms in dictionaries, and adjust the font and size of the page. Amazon Kindle is the greatest Android book reading apps for book lovers, according to Lifehack and Android Authority.
Blinkist
Available platforms: iOS, Android
Subscription price: $4.99/month or $49.99/year with a 7-day free trial
Top choice for iOS users who want to turn reading into a daily habit. Lovers of non-fiction.
Interesting feature: Listening and reading mode — you're free to choose the most comfortable format for you
If you're someone who has just recently begun reading because of this quarantine, the Blinkist book-selling app is a great place to start. This is a great choice for people who wish to brush up on their professional abilities while on the road. Book lovers can find more than 3,000 best-sellers on offer. For the most part, Blinkist is filled with groundbreaking ideas that can revolutionize your life.
Read more: 10 Best Healthcare Apps for Patients
Libby by OverDrive
Available platforms: iOS, Android, Amazon
Subscription price: Free
Top choice for real bookworms who miss their local public library
Interesting feature: Enter your library card information to experience borrowing a book from start to finish.
Libby allows you to browse through epub versions of books from your favorite public library if you miss it! Digitally borrowing books has never been easier thanks to this app from OverDrive. Using Libby in conjunction with Amazon, you may also access your public library's selection of audiobooks.
Wattpad
Available platforms: iOS, Android, web
Available platforms: Free
Top choice for avid writers
Interesting feature: You may join a specialty to connect with your unique interest group
Wattpad is more than just a book app; it's a whole community of writers and readers. It's a great place to connect with others who share your passion for reading and storytelling. Because it's a great iPhone app for bookworms.
Audible
Available platforms: iOS, Android, Windows Phone, Amazon Kindle, Fire TV
Subscription price: $14.95/month for one audiobook with a 30-day free trial
Top choice for fans of audiobooks
Interesting feature: You may hear how an author reads his/her book. Alternatively, Amazon welcomes a Hollywood start for this.
In terms of audiobooks, Audible is the best option. It's no surprise: the vastness of its collection and the ease with which it may be used make it an obvious choice. Audible's Audible Originals, the Amazon team's original series, are often included in rankings of the top book apps. In addition, the app works with a wide range of devices and media types, including smartphones, tablets, desktops, smart home devices, and Amazon items.
Read more: 5 Best Celebrity Look-Alike Apps
When one is an avid reader, they often find themselves in the uncomfortable situation of having to figure out how to bring their books with them. Taking the train, going to the beach, and flying are all examples of places where you'll see me. Because who wants to go anywhere and not have them there with them? Put it out of your mind. But it's inconvenient to haul them across the world. My worst fear on a trip is running out of things to read. Fortunately, there is an app for everything these days. Above are several reading book apps available for bibliophiles.
With these amazing good reading apps free, you'll never be without something to read again, whether you're using an Android or iOS device.
At Mobcoder, a book app development company for organizations wanting to grow their digital products to attract more consumers. This move to mobile-focused business models is impacting every sort of customer, but readers particularly are shifting their behaviors. More and more people are choosing to read on their tablets and Kindles instead of traditional books. Mobcoder has put up a list of the top apps for book lovers of all ages.